LED lamps have recently hit the lighting market and attracted a lot of consumers' attention. But the professionals of interior and exterior design have been using them for ages bringing out even the most unrealistic ideas. Let's see what LEDs can do when they fall into hands of nonconformist creators.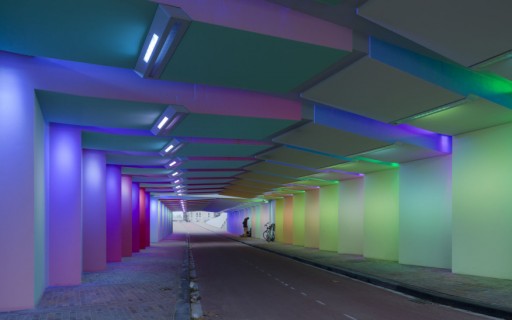 Photo: via Newswire

1.      Architecture and landscape illumination
Architects and landscape designers have never neglected the lighting objects in their projects. For them the more lighting forms are available the better it is. So when LED lighting became cheaper, they were the first to exult. 
LED's tiny size ensures their outstanding design flexibility. Besides, LEDs are compatible with smart lighting controls such as occupancy sensors, daylight harvesting systems and load control switches. Their energy saving rate makes them extremely cost-efficient, vandal-resistant construction and long life-span help to save costs on maintenance. All that makes LEDs a universal outdoor lighting solution. LEDs can also nurture the notion of adaptive lighting by creating completely different environments by the same illumination.
Tunable spectral properties can also become a source for new creative ideas. But it's not only about art and beauty. The light intensity and its spectrum can affect health, mood and work capacity. 
2.       Museum lighting
Creating the illumination that doesn't harm the great authors' masterpieces is a big deal for galleries and museums. LED's are more than just useful here, as they emit no UV or IR radiation. Another important feature is their color rendering index – the level of colors distortion caused by light.  LED lighting is very close to natural, so the visitors can see the colors as they are.
But it is not only about practical side. The museum lighting can be a masterpiece itself. A good example is the project, realized by Schneider +Schumacher in Städel Museum (Frankfurt, Germany). The design team upgraded the skylights by LED ring fixtures inbuilt into their housing. Daylight sensors control the light intensity, raising it as clouds pass overhead or as evening approaches, thus ensuring a constant light level and creating daylight conditions even in the evening dusk. 
3.      Interior design 
​All of the major benefits of LED lighting such as small size, design flexibility, low energy consumption and high light quality are also important for ordinary in-house implementation. 
You can create plenty of lighting compositions by varying lamps with different beam angle. Bright LED's with wide beam angle are useful in spacious rooms and lamps with directional light will help you to emphasize specific design elements.
In interior design projects much attention should be paid to light's color temperature, spectrum and ripple level. And if you plan to use the lamp in children's room you'd better reassure that they are shock-proof and won't harm your kid.
And the last but not the least: many are singing the praises of LED's electricity saving rate. Though they still are quite expensive comparing to other lighting types, they help to save on electricity bills and maintenance. So this kind of illumination is not an expense, it is an investment into any family budget!
You can get much further with a great imagination and an LED than you can get with a great imagination alone.  And maybe next time approaching the light bulbs shelf you will give a chance to one more LED lamp to fit in your life and brighten it up with soft natural light!
(Above news reprint from LEDinside)
---
Post time: Nov-08-2017